Deliverables:
Logo Refresh
Brand Guide
Website Redesign
Print Collateral
Acquisition:
by Microsoft in 2015
BlueStripe Software was founded with a goal to give IT Operations teams a way to discover, map, and monitor their complex application infrastructure in real-time. Their resulting Hybrid Cloud solution quickly garnered interest from Microsoft and created synergies between the two companies. After partnering with Microsoft for several years, BlueStripe sought to elevate its visual brand to match the same level of promise its cloud solutions offered the market. Ray and his team were hired to redesign the BlueStipe identity, establish a set of brand guidelines, and completely redesign the website. The resulting work elevated the perception of the company and strengthened its position in the market, which led to an acquisition by Microsoft.
Original Logo
Refreshed Logo
BlueStipe's early branding did not reflect its elevated position in the market. While their monitoring software was strong and greatly simplified a very complex client problem, their branding created more issues than it solved. Yet, it had existed for 7 years with few design changes, so a complete break from the existing elements was not advisable. We built upon the existing elements and reimagined a new logo that would inspire new clients but not alienate existing ones. The resulting redesign punched up the brand colors, established a cleaner, more simplified font, and eliminated visual clutter to create a much more memorable logo for reproduction across any medium at any size.
Once the logo had been defined, a set of guidelines were created to ensure the brand stayed consistent at all times. Secondary logo treatments, one-color options, and icon-only uses were spelled out. The brand's color system and font specifications rounded out the guidelines and gave future design work parameters to keep all visuals and messaging uniform.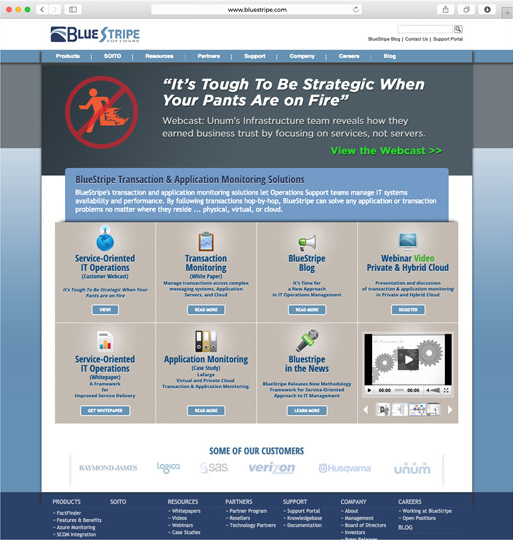 Original Website
Redesigned Website
The project culminated with a full redesign of BlueStripe.com. Before applying the new logo and brand guidelines, our team deconstructed the site and created a new UI which simplified the site's navigation and content while focusing on the core product messaging. CTAs were strategically placed to guide site users to BlueStipe's chief product offerings. Finally the new logo and brand guidelines established the visual design elements of icons, infographics, and template components. For the site development, WordPress was selected as the CMS and customized to work within the BlueStripe's workflow.